Success With Gizmos is Districtwide
Christina Verberne is the High School Instructional Technology Facilitator for Tangipahoa Parish School District in Southeast Louisiana. But she's been a fan of ExploreLearning Gizmos since she was a teacher.
"I first learned about Gizmos while teaching in the science classroom during the 2019-2020 school year before the pandemic. I presented it to my district-level science coordinator and was given permission to do a pilot with my students that school year," recalled Verberne. "I used science Gizmos primarily with my Honors Biology I students, Dual Enrollment Biology 2 students, and Anatomy and Physiology students. At the time, I had a classroom set of Chromebooks and saw the potential of using the lab simulations in conjunction with hands-on lab activities."
"During the course of my pilot year, we were sent home for quarantine, as was the rest of the world. At the time, we were not yet a 1:1 Chromebook district. However, when we came back, we became a 1:1 device district, and I pushed hard to get Gizmos approved for the high school science teachers in my district," said Verberne.
"This was finally approved coincidentally at the same time as I made the move to the district level as the High School Technology Facilitator. Once in my new position, I made it one of my top priorities to train high school science teachers to use Gizmos in their classrooms. We are now in our second year, and we're approved to continue using Gizmos for another two years!"
Differentiation with Gizmos
"My teachers love how Gizmos are ready to use. But they especially love how the lessons and activities are adaptable for students at all learning levels. Through training and collaboration, I have shared how the teachers can take the lessons and modify them for lower-level students and create more challenging tasks for higher-level students," said Verberne. "Teachers also use Gizmos by having students complete a virtual lab activity. They then compare that data with data from a hands-on lab. This has helped our students to see how 'real' scientists work today."
"The majority of our high school science teachers use Gizmos at least once a week—we use it for homework, in-class work, in stations… every aspect of their lessons," said Verberne. "I work with new and veteran teachers to make sure they know how to access it and plan to do another summer training where teachers can meet and work on creating lessons with Gizmos embedded."
How great are Gizmos?
Verberne's favorite Gizmo is Feel the Heat. "I do a summer workshop showing how this single Gizmo can be used with a hands-on lab for every single science branch. All branches of science can use this to teach about endothermic and exothermic reactions."
"I have found a few other simulations, but none offer the amount of resources as Gizmos do."
Verberne noted that teachers in her district appreciate how Gizmos pre-made resources can be paired with Google Docs and modified to differentiate lessons for all students. "I even created a Google Classroom for my district where teachers can collaborate and share the Gizmos they use in their classrooms. This helps when there may only be one biology teacher at a school, and through Google Classroom, they can see how biology teachers use Gizmos in other schools."
"Tangipahoa Parish Science teachers absolutely love Gizmos!"
---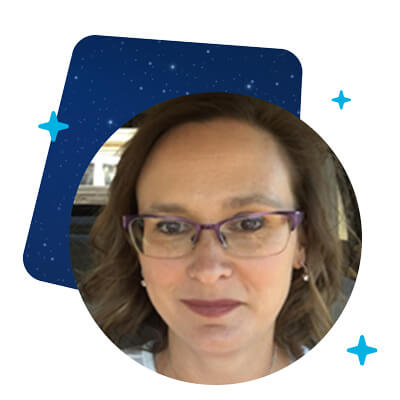 Before becoming the High School Instructional Technology Facilitator for Tangipahoa Parish School District, Christina Verberne taught high school science for 20 years, with 18 of those years at her alma mater, Loranger High School. She loves helping teachers and students learn how technology can enhance lessons.